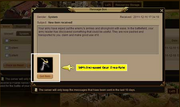 Like any MMO it's all about the gear, you can't hope to defeat the strongest alliances if you are still wearing flawed armor. It's time to grow with the times and seek out the latest and greatest in weapon and armor technology. Become a VIP today to receive an increased drop rate on gear giving you the items you want much faster.
Ad blocker interference detected!
Wikia is a free-to-use site that makes money from advertising. We have a modified experience for viewers using ad blockers

Wikia is not accessible if you've made further modifications. Remove the custom ad blocker rule(s) and the page will load as expected.