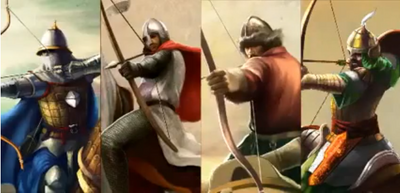 Mongol Archers ( at Archery Range )
With an average defense and low attack the Mongol Archers at first glance might not seem like a helpful addition to your budding empire but their inexpensive training regime ensures that you can always outnumber your opponent If you strategize well.
Basic Info:Resource:Requirement:
27 30 39 55 20 30 9 56 1 1 33 22 18 12 00:00:12 II Lv
Type: Range
Mongol Horse Archers ( at Archery Range )
Traversing through terrain at a lightning quick pace, the Mongol Horse Archers are nightmare to defend against but a joy to behold when they are at your command. These horseback archers can severely injure any unaware enemies before they even have time to react.
Basic Info:Resource:Requirement:
117 69 88 124 46 78 14 111 2 2 95 63 53 23 00:00:42 III Lv3
Type: Range
Mangudai ( at Chamber of Erlik )
The Mongolian army is renowned for its use of horseback archers with a multitude of stories written about their fearsome nature, riding swiftly into the battlefield and slaying their foes before they even get close. Known as the Mangudai these warriors were trained from an early age to ride a horse and shoot arrows at the same time, unlike the standard horseback archers the Mangudai are the best of the best, combining blistering speed with frightening accuracy and deadly power.
Basic Info:Resource:Requirement:
134 125 160 208 101 99 9 111 2 2 98 98 98 33 00:00:59 IV Lv5
Type: Range
Elite Mangudai ( at Chamber of Erlik )
The Elite Mangudai is an excellent example of how to improve on something that is already perfect. With an even faster speed than the 'basic' Mangudai these elites quite easily are the quickest of the Mongolian manned army but perfection comes at a price and their main drawback for having such a high power is the amount that they will cost your city in terms of training and food consumption which is both fairly high.
Basic Info:Resource:Requirement:
201 187 241 315 152 149 9 114 3 3 147 147 147 41 00:01:28 IV Lv10